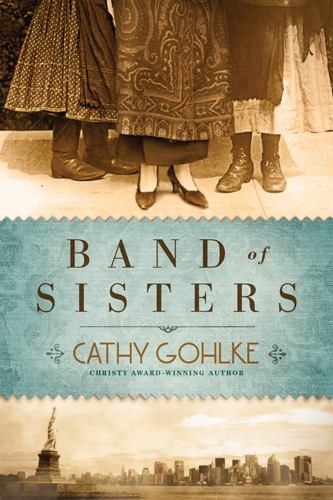 I have never read a book by
Cathy Gohlke
before, so this book was a fine introduction to her writing.
Band of Sisters
chronicles the journey of Maureen and Katie Rose O'Reilly from Ireland to the United States, from homelessness to security, from loss to love.
Maureen holds a letter to her father from a Colonel Wakefield, promising sponsorship should he decide to immigrate to the States because of her father's aid to the Colonel during the Civil War. She goes to the Wakefield's home to find that, like her father, the Colonel has passed away. Maureen has to find a place to live and a way to support her sister or be deported, but Maureen is turned away from the Wakefield home. She is basically on her own, with the temporary help of Mrs. Melkford.
A man, Jaime Flynn, meets Maureen after she has passed through the labyrinth of Ellis Island and gives her thirty dollars and a name of a department store where Maureen could get a job.
There is an understory to the story Cathy is weaving in this book--the story of human sex trafficking. Jaime and Drake are both involved, while Olivia Wakefield and her sister are trying to enjoin with other like-minded women to put a stop to this deplorable practice.
Band of Sisters is a well-written, engrossing novel. I was touched by the plight of Maureen, Katie Rose, and even Maureen's coworkers. One thing I look for in reading Christian literature is what I can take away from the book besides entertainment. I found mercy, I found grace, I found what it really means to look at the heart instead of looking at appearances. Thank you, Cathy, for a job well-done. Five Stars, Two Thumbs Up, and I'd claim you in my "Band of Sisters" any day!