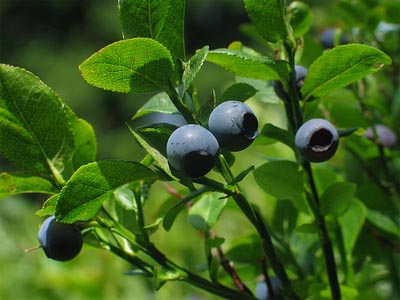 Huckleberries are a wild bush that produce really nice, tasty berries that remind me of wild blueberries (my taste buds aren't all that discriminating). They are not normally cultivated, but grow in the woods and are fairly rare unless you know where to pick them. To have a private stash of huckleberries is to have a gold mine. Huckleberries make incredible syrups, jams, jellies, pies, and muffins.
Beth is a widowed mother living with her great-grandparents. Nothing means more to Beth than her son and her family and she will go to any lengths to protect them from her in-laws. Her late husband was verbally and emotionally abusive and Beth wanted nothing more to do with his family, simply as a way of protecting herself. Beth's great-grandmother, Anna, fancies herself a matchmaker, and while every bachelor in the community has come around to court Beth, Anna has only one man in mind for her--Tyler.
Jennifer Beckstrand
has written a really cute novel with matchmakers, desperate men, independent women, and bitter people all mixed together to make an olio of great reading. I have never read one of her novels, but this introduction to her writing would induce me to read more. Jennifer has woven humor, angst, pathos, and love into the tapestry of an entrancing story. What has made this story so believable is that Beth has to work through the abuse she suffered at the hands of her husband, Amos, and his family, before she can make any room in her heart for love. Tyler has decided that he really isn't marriageable and truly doesn't have any desire for a wife. Anna has different ideas, if only her great-granddaughter and Tyler would listen to her.
One of the things I really appreciated about this
book
is the way Jennifer showed how Beth worked through her faith-crisis to realize that God had truly been with her throughout her trials. In coming to that realization, Beth knew she had strength to stand on her own two feet, with the strength of God.
Five Stars, two thumbs up, and a huckleberry pie.
This book was provided for me to read and review. I was not compensated in any way for expressing my opinions.