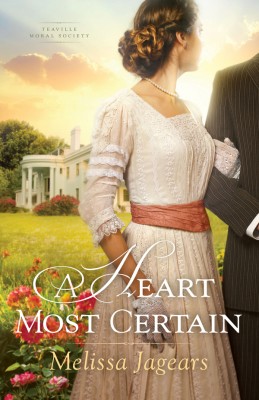 Lydia King is a member of the Moral Society of Teaville, and as such wants to help the poor and disenfranchised. She's not exactly sure about their methods, but this seems to be the only way to get inroads for helping people. The one thing the leader of the Moral Society wants Lydia to do is to get Nicholas Lowe to donate toward their quilting gear by buying two sewing machines. Nicholas doesn't see that the Moral Society does any good, and refuses time and again in spite of Lydia's persistence. Finally, he gives Lydia a challenge--come up with three things that do not include sewing machines, and he will grant her wishes. Part of him wants to see what she comes up with, and part of him wants to be around her more--he's intrigued by her.
Lydia knows what it's like to be poor--her father gambles away every cent they have, her mother is terminally ill, and they are behind on their house payments. Sebastian Little thinks that Lydia will make the finest political wife, because he thinks she'll be biddable especially since he will bail her family out of their financial woes. The big thing is Lydia doesn't love him.
When she brings Nicholas her list, he grants every one of her wishes with the proviso that she participates in the execution of her wishes. Lydia asked Nicholas to help three families in need, tithe ten percent of his fortune to the church, and to build a library for the town so that books are available to everyone in town.
I really can't go into much more of the plot without giving it away. I will say that
Melissa Jagears
is one talented writer. Her characters are believable, her setting adds so much to the story line, and her plot moves along at a consistent pace.
A Heart Most Certain
takes social mores and turns them on their heads. It seems that behind every social movement, there are people exploiting it and making money off of it. Parts of this book could be an expose' in how that's done all too frequently.
I give this book five stars, two thumbs up, and a library book for a lazy afternoon.
My thanks to Bethany House Publishers for allowing me to read and review this book.