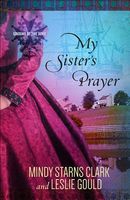 I haven't read the
first book
of this series, but that didn't detract from the beauty of
My Sister's Prayer
. In both books, there are characters who are direct descendents of the historical characters who live similar lives.
In this review, I am detouring from my usual style to do a "my favorites" kind of thing.
My favorite historical character surprised me. It's not Celeste, but Sary--she saw many things during her indenture that gave her such wisdom beyond her years. While she technically wasn't an indentured servant but a slave, her work was still the same. She was a cook for an inn on the James River, and while French was her first language, she spoke and understood English fluently. She chose to hide that fact so that she could force her "owner" to bring in a translator to be her friend.
My favorite modern character is Maddee, which is not surprising. Her faith has been derailed for a bit, but because of her sister, Nicole's, accident and subsequent recovery at Maddee's place, she's slowly finding it again. She's mixed up a bit as to the kind of man she really wants and she often can't see what's right in front of her.
My favorite plot device in this book is the parallel lives the modern sisters lived to the historical sisters. While Celeste's sister, Berta, did not have an accident, she was extremely ill and required Celeste's care. Maddee's sister, Nicole, needed Maddee's care while recovering from a car accident.
One thing I would change in this book is to leave out the murder of the man in the cabin. While it allowed a few extra characters and a bit of cloak and dagger action, it really didn't add to the plot lines except as a distraction. I feel the book would have been a whole story without that particular device.
This is an exceptional novel with bright, clean writing that leads to a satisfying conclusion for the reader. Five Stars, Two Thumbs Up, and a friend who speaks your language.
Mindy Starns Clark
and
Leslie Gould
make a killer author team and I need to read more of their works.