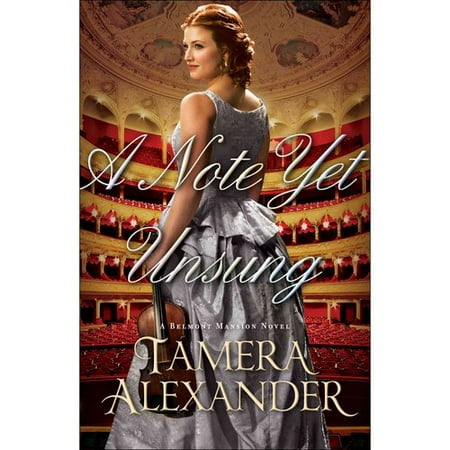 Tamera Alexander
is one of my all-time favorite authors. She has a way of creating a captivating tale with incredible settings and irresistible characters. A Note Yet Unsung is the final installment of the Belmont Mansion series of novels. Within the pages of this novel are a few historical people as well as the characters of the book. Adelicia Cheatham owns the Belmont Mansion and takes in Rebekah Carrington as an employee to tutor her daughter in playing the violin. Rebekah's home life was not safe at all because of her stepfather who had tried to assault her when she was a young child. Rebekah's lifelong dream was to play in a symphony but the times are such that women are not allowed to play in the symphony.
Nathaniel Tate Whitman was named the Maestro of the Nashville Symphony. Rebekah goes to him to apply for a job in the symphony only to be turned down. But Tate comes back to ask her to be his assistant, to help him with writing his symphony to be performed on the opening of the new theater in Nashville.
The road to love for Tate and Rebekah is anything but smooth, but it is never boring, and it makes
the book
all the sweeter. This is a five-star book, with two thumbs up, and a mystery violinist playing the most beautiful music you've ever heard.
I appreciated Bethany House for allowing me to read and review this book. Extremely hard to put down.